23 September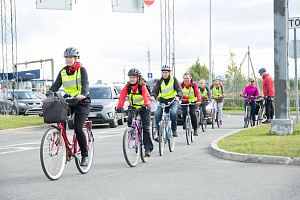 On September 14, partners of the project «Cycling» held a meeting and organized a pilot bike ride from Svetogorsk to Imatra as a part of preparations for a large-scale bike ride, which is planned for the end of the project implementation when bicycle infrastructure is constructed.
The bike ride was attended by representatives of the Directorate for Development of St. Petersburg and Leningrad Region Transport System, Administration of Imatra, Center for Economic Development, Transport and Environment of Southeast Finland (KAS ELY), Administration of Svetogorsk, Cultural Center, Sports Center, Svetogorsk Youth Council, as well as sports school students and city activists.
The event began with the presentation of the project in Svetogorsk Cultural Center. Project partners shared achieved results and awarded the winners of the bicycle photo contest held in August - September by the project's lead partner.
Having dressed in reflective cycling gear, participants of the bike ride rode their bikes along the route that began on the territory of Svetogorsk and continued through Finland all the way to Imatra, where participants visited Cultural Center Virta.
At the end of the event, Russian participants of the bike ride made a return trip to Svetogorsk.
We would like to thank all the participants and organizers of the bike ride for such a warm and positive atmosphere.
Energized, the project team is ready to continue preparing upcoming events. Lots of exciting things are waiting ahead, so stay tuned!