6 February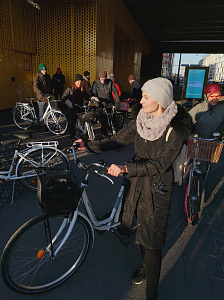 On February 4, 2020 a member of the project «Cycling» team Natalia Rud took part in the pre-tour and seminar of the Winter Cycling Congress 2020, which was held in Helsinki (Finland) with the participation of experts and activists from the USA, Canada, Europe and Russia.
In the first part of the event, which was the seminar at the Central Library of Helsinki «Oodi», leading specialists responsible for development and maintenance of bicycle infrastructure in Helsinki shared with the participants information on the current stage of development of bicycle infrastructure, city's experience of maintaining bicycle infrastructure in winter, use of data for purposes of development of cycling and plans for the future.
It is worth noting that experience of Helsinki, especially in the field of maintaining bicycle infrastructure during the cold season, is highly relevant for St. Petersburg and the Leningrad Region due to the geographical closeness and similar climate.
In the second part of the event, the participants had a unique opportunity to test Helsinki's bicycle infrastructure themselves, learn about its development while enjoying the sun during a bicycle tour under the guidance of local experts.
Thanks to the organizers of the Winter Cycling Congress and all the participants for experience and friendly atmosphere!