23 June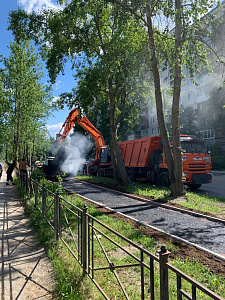 Cycle path in Svetogorsk, Leningrad Region, which is being constructed as part of the cross-border cooperation project "Cycling" activities, will be completed soon.
Already when planning the construction, the Directorate set the primary goal - to provide conditions for safe and comfortable cycling.
The length of the two-lane bike path in Svetogorsk will be about 4 km. Its route will pass through sections of Krasnoarmeyskaya, Sportivnaya, Pogranichnaya and Zavodskaya streets, connecting the main points of attraction in the city.
Currently, the final series of works is being carried out, including those that ensure the safety of cycling: road signs are installed, road marking is applied, and speed bumps are installed to regulate the speed. At the final stage, the ramps are also leveled and asphalted.
In addition, under the project, on Garkavy street in Svetogorsk a special territory will be created and marked with special signs - a bicycle zone. The main feature of such a zone is that cyclists take precedence over other vehicles and pedestrians here. This new element of cycling infrastructure is a recent thing in Russia, but it is already gaining popularity in different cities.
Besides, works are underway to equip the Svetogorsk checkpoint with cycling infrastructure elements that will ensure comfortable and safe crossing of the border on a bike, as well as provide a link with the city. The works include application of road marking, installation of bike parking and creation of a special area for cyclists to rest with service station in front of the checkpoint.
Unfortunately, taken existing restrictions that are in force in connection with the spread of the novel coronavirus infection, it will be possible to use the new cycling infrastructure only on the territory of the city until borders are open again.
The Directorate continues to coordinate implementation of the project and makes regular visits to Svetogorsk: on June 11, 2021, representatives of the Directorate took another trip to visit the construction site and hold a meeting with the head of the city administration, at which they discussed the bike ride along the route that includes the section along the newly constructed cycle path.
If the epidemiological situation permits, the bike ride will take place in the second half of August 2021. It will include not only the travel along two routes of choice, shorter or more extended one, but also entertainment program, including competitions, performances, and distribution of souvenirs.
Background information:
Project «Adaptation of new approaches to develop cycling and cycling routes between Russia and Finland to improve safety, mobility and environment, and to promote social development (the case: Svetogorsk – Imatra cycle track)» (project «Cycling») is implemented by the Directorate since 2018 in collaboration with the City of Imatra, Centre for Economic Development, Transport and the Environment of the South-East Finland and City of Svetogorsk with financial support from the South-East Finland – Russia CBC Programme, Government of the Leningrad Region and the Ministry of Transport of Russia.