4 February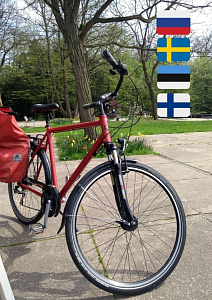 On the 3rd of February the Directorate took part in a team meeting of the international project «Trans-Baltic Cycling Route». The project is being implemented with participation of partners from Russia, Sweden, Estonia and Finland.
The main goal of the project is determination of the optimal bicycle route between Saint Petersburg and Stockholm and involvement of various stakeholders on the territory of each country interested in implementation of the bicycle route idea for further preparation of common application to finance the next stage of the route development.
On behalf of the Directorate, Head of Investment Policy and PPP Unit Ksenia Lipatova, expert of the unit Natalia Rud and junior expert of the unit Maria Lelchuk took part in the meeting, on behalf of the partners - Emilia Sternberg (Cykelfrämjandet, Sweden), Toomas Lelov (City Bike, Estonia), Henna Palosaari (BikeLand, Finland) and Maria Belova (Green Mobility, Russia).
At the meeting, participants discussed the current status of the project implementation, including proposals of the partners on interested stakeholders in their countries and following steps for determination of the future bicycle route, as well as further plans, including organization of the project meeting in Tallinn in April, 2022.